Registering Password – Register PassLogic authentication server to the app
By registering to PassLogic authentication server, you can display password on PassClip L. Displayed password can be used to authenticate  login to registered PassLogic server. There are two ways to register PassClip L to Passlogic server. The system administrator decides which method is right for you.
You need to contact the sysadmin to confirm registration method.
A: Scan QR code
B: Register password using registration URL
A: Scan QR code
1. Start the PC or other devices and open a browser to access to PassLogic. Start initial login.
Enter your User ID and password specified by sysadmin. When you click "Next" for the first time, PassLogic screen displays the QR code.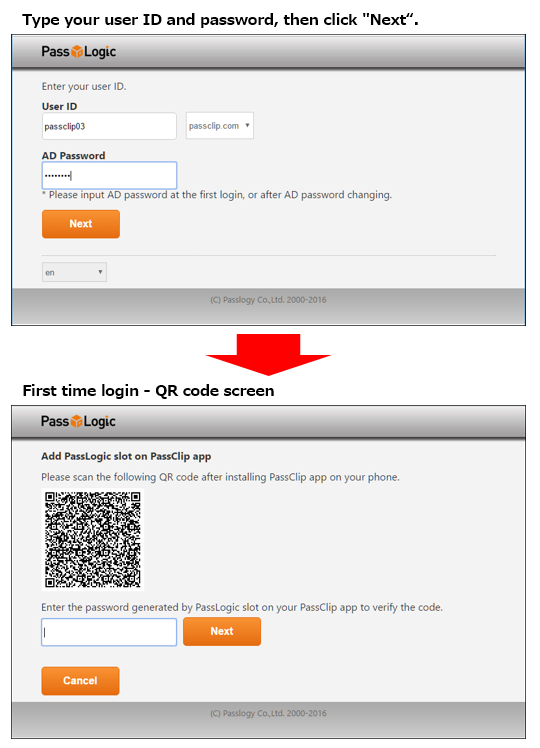 2. Next, launch PassClip L. Select "+ADD" button at the upper right of the screen and select "QR Code Reader".
Display QR code on a personal computer screen and scan that code with your mobile phone.
A slot will appear on PassClip L.
Tap the slot to confirm PassLogic password.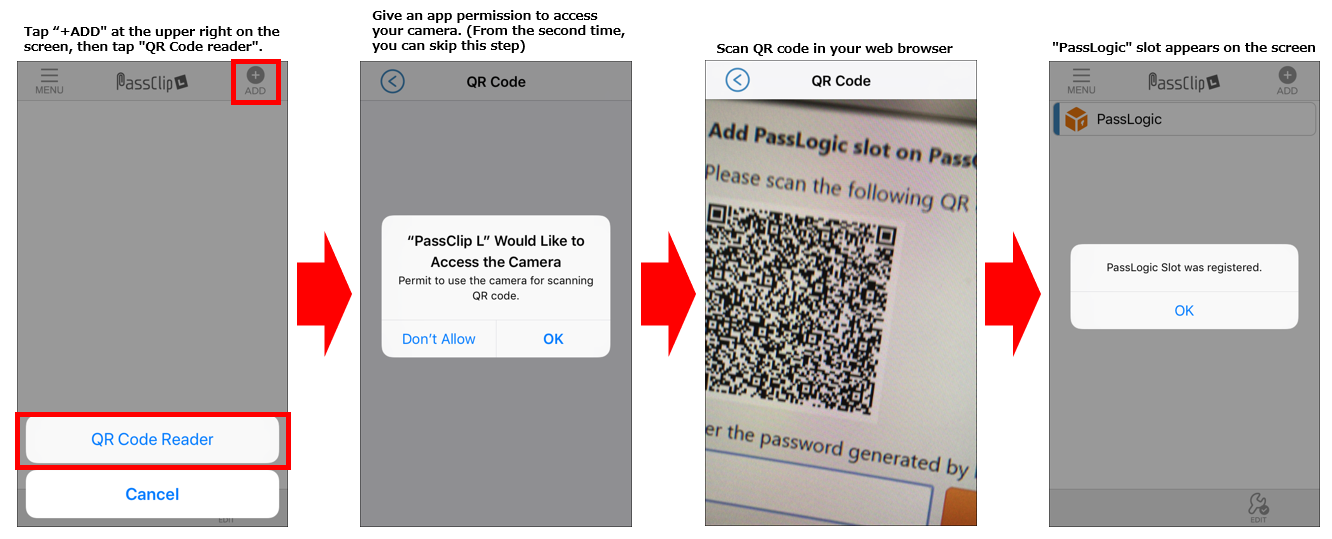 3. Confirm and enter your password on personal computer PassLogic authentication screen. Click "Next" to complete the login operation. The next time you login to PassLogic, you will be first asked to enter your User ID and password specified by sysadmin. On the next screen, you can complete login by entering the password which displays in PassClip L slot.
B: Register password using registration URL sent from sysadmin
1. You might receive an e-mail from system administrator with registration URL.
Tap the activation URL with your trusted device that you've already installed PassClip L.
2. Browser opens and link to launch PassClip L will be displayed. Please tap the link.
3. You will get a dialog box "Are you sure you want to open PassClip L?", please select "Open".
4. Once you select "Open", PassClip L will start and you can see a slot on the app screen.
Tap the slot to confirm your password.
To access PassLogic, you can log in using the password that showed on the app screen after entering your user ID.