WHAT IS RESTORE KEY?
With PassClip, you can take over your password data when you replace your smartphone or other device with a new one and reinstall PassClip.
Normally, the data will be taken over by checking the registered email address and your pattern, but if you set a Restore Key, you will be required to enter the Restore Key. So your password data are stored more securely.
On the other hand, if you forget the Restore Key, you will not be able to take over the password data. So be sure to remember it.
If you set a Restore Key, it is recommended that you keep it in a location where you can see from other devices, in case you lose your device.
HOW TO SET, CONFIRM, AND CHANGE THE RESTORE KEY
1. Select "Settings" option from the Main Menu to open the "Settings" screen.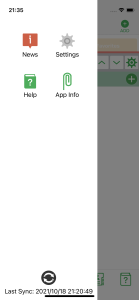 2. Tap "Restore Key" and input your pattern.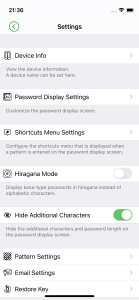 3. If a Restore Key has already been set, it will be displayed here. If it is not, a message, "No restore key configured." will be displayed.
To set or change a Restore Key, tap the "Configure" button.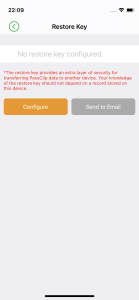 On the next screen, tap the "AUTO" button or enter any character string.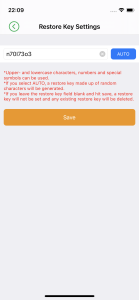 4.Tap the "Save" button to save the Restore Key.
EMAIL THE RESTORE KEY
When you tap the "Send to Email" button on the "Restore Key" screen, an email including the Restore Key will be sent to the "primary email address" registered in PassClip.