When you tap "News" option from the Main menu, the title list of the announcement from the PassClip administration will be displayed.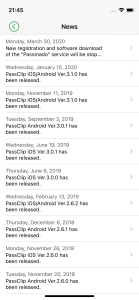 When you tap a title, you can see the content of the announcement.
If a new announcement is posted on the list, "New" in red will be displayed on the Main Menu button on the Slot List screen and the "News" in the Main Menu.