If you have any problems with the password list display, please try the following operations.
1. Open the Main Menu and tap the Rounded Arrow icon 

 at the bottom.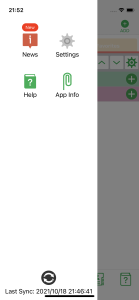 2. Wait for a while, and if the "Last Sync" date and time under the icon 

 is updated, the sync is successful.
3. If it still doesn't work, press and hold the icon 

.
This operation downloads all the data from the server and may take a long time. So please try in a good radiowave environment.